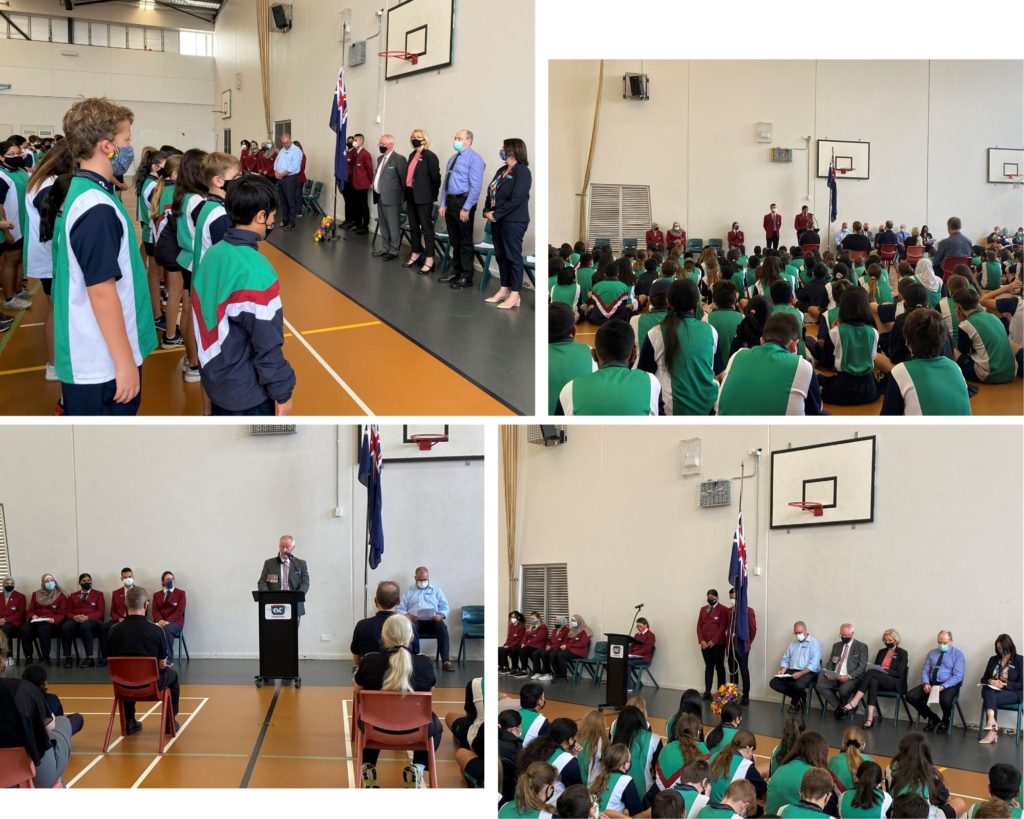 In response to the current post lock down restrictions the College reviewed activities for this week and decided that conducting large assemblies with 3 year groups (approx. 700+ students and staff) was not appropriate. In making this decision we decided to run an ANZAC ceremony with Year 7's only and this was held during Period 1 on Thursday.
This commemorative service for ANZAC Day enables us all to reflect on the connections between past and present and acknowledge the sacrifices men and women have made for the freedom that we enjoy today.
The behaviour and manner of the Year 7 classes was absolutely wonderful. They showed respect and appreciation for the formality of the event. Prior to commencing the ceremony, the whole group, once seated and settled, lapsed in to absolute silence, a very eerie moment as we prepared to acknowledge the ANZAC traditions begun at Gallipoli 106 years ago.
A wreath was placed at the foot of the Australian flag by our student council members as the Ode of Remembrance was read to the assembly. Students respectfully watched in silence as the school captains lowered the flag to half mast and The Last Post was played, before honouring a minute of silence.
I commend the students on their exemplary behaviour at this special event. They are a credit to their families, primary schools and also themselves. After the assembly I went in to a significant number of Year 7 classes to acknowledge their wonderful behaviour and contribution to an albeit modified ANZAC commemoration at the college for 2021.
Well done to the whole Year 7 cohort. You represented all students at the College in a perfect way. I am so very proud of you and proud to be your Principal.
Paul Bottcher