Perth Goju Karate teaches karate classes in your local area.
A special offer for the school's students – 4 WEEKS FREE beginners karate lessons!
Classes are held after school and are a great way for children of all ages to learn self-defense in a fun and safe environment.
We also teach classes for teens and adults and they are fantastic for fitness, wellbeing and of course, self-defense.
Classes continue over the school holidays (with a short break over the Christmas period) which makes it perfect for the kids who are looking to try something on the holidays.
Karate has many benefits which include confidence, respect, discipline and fitness.
Call now to take advantage of this 4 week trial.
Sensei Johnny Moran – 0402 830 402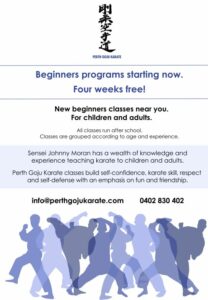 Parking around schools – Did you know?
It is an offence to park on a footpath, private property or a verge opposite the private property, unless the property owner has given permission.
Walk or ride to school if you can. Research has shown that exercise has many positive effects including improved health and wellbeing and better learning outcomes at school.  If it's too far to travel on foot or bike, consider being dropped off at a safe place closer to school and walk the rest of the way.
Congestion around schools can be a major traffic hazard. Please obey all signage and road rules to provide a safer school environment and consider alternative travel such as walking, cycling or publictransport.
If you get to school by car, try arriving a bit earlier or later in the day to avoid peak drop-off and pick-up periods. Reducing the number of vehicles in the area at the same time will reduce the risk of accidents and crashes. Where it's safe to do so, you could also drop off students a short distance from the school and walk the rest of the way.
Rangers at the City of Gosnells use the City's Parking Local Law 2012 to ensure parking remains safe, lawful and allows traffic to flow. Don't risk a fine for parking illegally around a school – many parking infringements are $100. If you can't find anywhere around the school, consider parking further away and walk the rest of thedistance.
Are you looking for a new team sport to play in 2023? Canning Districts Hockey Club (Canning Cougars) would love to welcome new, past, and present players for 2023 winter hockey season. Canning always welcomes new and inexperienced players, regardless of skill level or age. Hockey is played by boys and girls and can be in mixed teams and is fun to play with your friends. Online Registrations – Club registrations are only online https://www.revolutionise.com.au/canninghockey/registration/ 
For more information on our junior and senior teams check out our website https://www.revolutionise.com.au/canninghockey/ OR contact our President Simon Warner on 0423 078 963 or email president.canning@gmail.com 
There has never been a better time for girls to play football.
Development pathways continue to thrive and Thornlie Junior Football Club are proud to boast having five players currently playing WAFL football.
Start your football journey today and register for one of our three girls teams; Year 7/8, 9/10 or 11/12.
________________________________________________________________________________________________________________________________________________________________________________