Learning Area Highlights 2020
A summary of highlights from the huge numbers of activities, extra-curricular events and programs that ran across each learning area throughout 2020.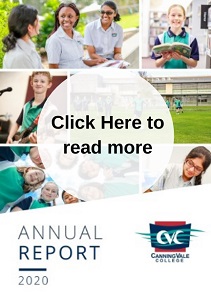 Canning Vale College Annual Report 2020
The Annual Report highlights the outcomes achieved during the 2019 school year against the targets expressed in the College Business Plan.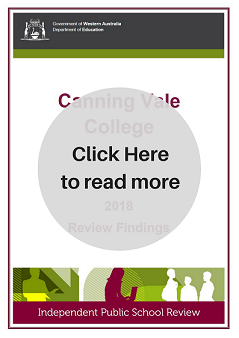 Canning Vale College Independent Public School Review Findings 2018
During the life of each Business Plan, an independent review is carried out for each Independent Public School to provide assurance to the community and the Director General of the Department of Education that the school has met the commitments outlined in its Delivery and Performance Agreement and Business Plan.
The review verifies the degree to which there are effective processes in place bringing about improved student learning.
Canning Vale College Business Plan 2018-2021
The CVC Business Plan is part of an overall improvement process that aims to make our great College even better.
The improvement process is a 3 year cycle involving setting a strategic direction, implementing direction through annual operational plans and reviewing school performance using established targets.