Canning Vale College Business Plan 2022-2024
The CVC Business Plan is part of an overall improvement process that aims to make our great College even better.
The improvement process is a 3 year cycle involving setting a strategic direction, implementing direction through annual operational plans and reviewing school performance using established targets.
A Glossary of Terms used in the Business Plan can be found here.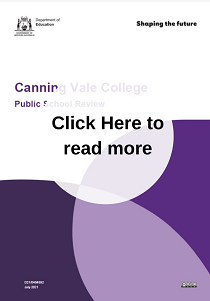 Canning Vale College Public School Review Report 2021
All WA public schools are reviewed by the Department of Education's Public School Accountability directorate. A review gives assurance to the local community, the Minister for Education and the Director General about the performance of public schools in delivering high quality education to students. The review acknowledges the achievements of the school and gives feedback to support the Principal and staff with their improvement planning. 
The findings of the 2021 review confirm a culture of continuous school self-assessment against business plan and operational plan targets is guiding future planning. CVC values the contribution that effective relationships and partnerships play in ensuring the best outcomes for students, and places a significant importance on creating and maintaining a safe, caring and inclusive environment. Our consistency of teaching practice is guided by the comprehensive Teaching and Learning Framework, and the commitment of the school community to the school vision and continual whole-school self-assessment has seen considerable improvement in student achievement and progress over the last two year.