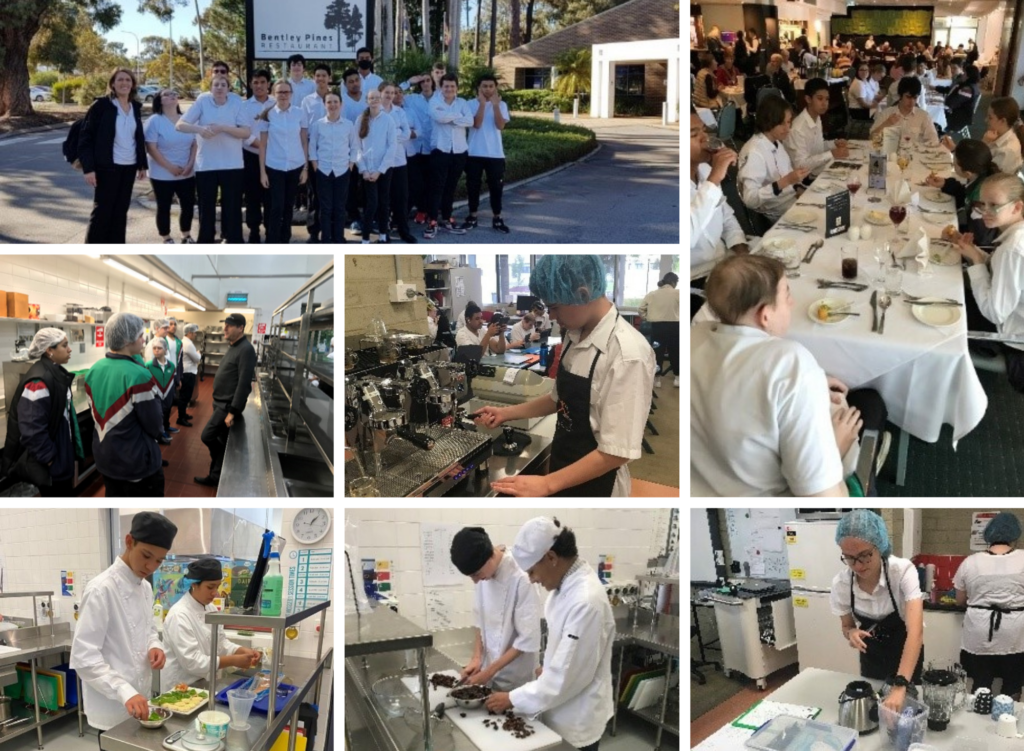 It has been a busy Term 2 for our Hospitality students.
Throughout the Term students have been providing a hot and cold beverage service to staff around the school, selling a variety of espresso coffees, teas, hot chocolate, milkshakes, and smoothies, as well as tarts and sticky date pudding. This not only provides practical experience but helps our students build confidence in their customer service skills. Students take turns in being Coffee Shop Manager, ensuring opening and closing processes are followed, as well as the importance of the presentation of the product, following a standardised recipe, and ensuring hygiene practices are adhered to.
As part of the Unit of Competency – Prepare and Present Sandwich, students have been preparing a large range of sandwiches; continental, crispy wraps, baguettes, canapes, open Danish, pinwheels, to name a few! Students then invited staff to an afternoon tea where they prepared, cooked and served a large selection of sandwiches. Our guests thoroughly enjoyed the afternoon's experience and the customer feedback forms were very positive.
In the middle of the Term we invited two past students to return to the College and share their Hospitality Industry experiences since leaving CVC. Jarod Goodwill left school in 2019 after completing his Certificate II in Hospitality at CVC and went onto Bentley TAFE and furthered his studies in "Front of House" successfully completing his Certificate III. Liam Gall left in 2019 and has since completed a Certificate II in Hospitality and Certificate III in Commercial Cookery. Liam secured an apprenticeship with COMPASS Group, working up north on a mine site catering for 3000 people earning enough money for himself to buy a piece of land and build a house. Both Liam and Jarod were flooded with questions from our students. We thanked both Liam and Jarod for sharing their experiences.
In Week 9 of Term 2 our hospitality students went on an excursion to South Metro TAFE in Bentley. Students were taken on a tour of their onsite restaurant before sitting down to a formal four course meal. The day was thoroughly enjoyed by everyone.
Mrs Stephenson – Hospitality Trainer/Student Engagement and Support